An original and unforgettable gift !
You want to please a loved one: offer him an existing service (deco coaching, space planning, complete study, home staging) or a customized service according to his needs and your budget! In order to help you in your choice, I remain at your disposal to discuss with you the objective of your approach and the solutions that best meet your expectations.
Several possibilities are available to you to personalize your request: technical plan and cut to visualize a new proposed layout, sketch 3D realized by hand or 3D view realized on software for an effect "as if you were there", inspiration's board to immerse yourself in the new decor … The only limit may be the difficulty of selecting only one option!
The gift box, valid for 6 months, comes in the form of a nice card in which your name appears, the name of the lucky recipient, a detailed description of the chosen service, the date of issue of the card, as well as my contact details to set an appointment.
To offer for all occasions: birthday, party, ceremony … the list does not stop there!
A word from Elisa
"Don't hesitate to tell me your expectations, and together we will compose a service of choice !"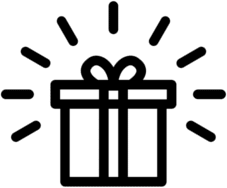 And to make you happy, for each offered gift card, 5% discount on your next purchased gift card !